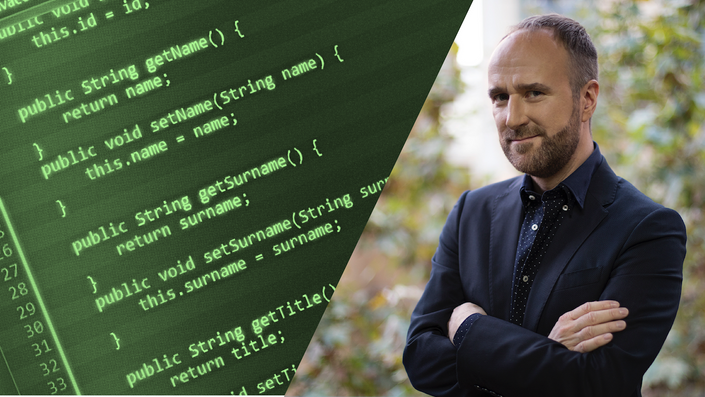 C# Features
Learn a comprehensive list of powerful C# language features.
For my courses I tend to write a lot of code snippets. And if there's one thing I love, it is mixing in power features of the C# language.
For example, take a look at the following code:

This is a simple Person class with a FirstName and LastName field, and I have overridden the ToString method. But did you notice all the cool C# language features I used?
FirstName and LastName are auto-properties
I am using auto-property initializers to set default values
The ToString method uses an expression-bodied function
The ToString method uses string interpolation
The string interpolation placeholders use null-coalescing operators to handle nulls
If the above is all Greek to you, then you might want to consider brushing up on some of the more powerful C# language features. Chances are, you're typing way too much code right now, code that the C# compiler can produce for you automatically.
This is slowing you down and increases the chance of human error.

"The course surprises me with quick and useful tips that are well explained. I'm learning that there's more to the many familiar C# language constructs than I was aware of. I loved it. Wonderful job Mark. :)"
- Ben Holtzman, course student
In this course I'll teach you 10 advanced language features of C#. You will learn all about the null coalescing operator, auto properties, object initialisers, lambda expressions, and much more!
I will also show you some very cool new language features that were introduced in C# version 6, like the aforementioned string interpolation and expression-bodied functions.
By the end of the course you will be fluent in these lesser-known advanced C# language features, and this will help you write better, cleaner and more compact code.

Course Curriculum
Introduction
Available in days
days after you enroll
Essential C# Language Features Every Developer Should Know
Available in days
days after you enroll
New And Cool C# Language Features Introduced In Version 6.0
Available in days
days after you enroll
Frequently Asked Questions
When does the course start and finish?
The course starts when you enroll and never ends. It is a self-paced online course, so you decide when you start and when you finish.
How long will I have access to the course?
That depends. If you take a subscription you'll have access to everything for as long as your subscription is active. If you purchase the course you'll have lifetime access, but only to this course.
What if I want a refund?
I'm happy to issue a full refund within the first 30 days.
What skills will this course teach me?
This course will teach you sixteen advanced features of the C# language.
Will this course help me grow in my career?
Yes! I created this course to teach developers the exact kind of skills I want to see in the people I work with.
What equipment/tools will I need to complete the course?
A computer with the .NET Framework installed, and your favourite IDE (I use Visual Studio Community Edition for OS/X)
Will I get access to the full course all at once?
Yes. You can go through the curriculum in any order you like.
Where is this course hosted?
This course is hosted on Teachable, a well-known and respected educational technology company. Teachable provides a social online learning platform and is based in New York.
What do I do if I need help?
If you need help with something related to the course, please contact me at
[email protected]
Thanks!
Subscribe to all of my courses, and get automatic access to any new course I produce for only $19 / month. More...